A Paging Group allows you to send calls to a group of phones that will be automatically answered so you can page users with a particular message.
Intercom is similar in that the call is auto-answered at the receiving end but it is usually used to page a single user.
Paging and Intercom features can be adjusted in the PBX Administration page under Applications.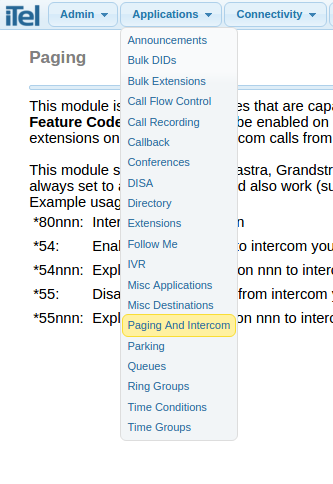 Intercom
Your phone model may require Intercom to be enabled before using. Test the feature and if you have any trouble, feel free to contact our support team.
Here are the basic commands to dial from your phone to use Intercom:
*80nnn: Intercom extension nnn
*54: Enable all extensions to intercom you (except those explicitly denied)
*54nnn: Explicitly allow extension nnn to intercom you (even if others are disabled)
*55: Disable all extensions from intercom you (except those explicitly allowed)
*55nnn: Explicitly deny extension nnn to intercom you (even if generally enabled)
Paging
To begin, you will need to add a paging group. Select New Paging Group from the right hand menu.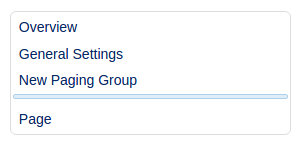 Paging Extension: the number you will dial to page the group. It has to be unique and not the same as any of your Extensions or Queues.
Group Description: give your Paging Group a name such as "Paging" or "ServiceDept".
Device List: drag all the extensions from the 'Not Selected' box over into the 'Selected' box which you would like to be paged when the Paging Extension is dialed.
Busy Extensions: whether you will page people if they are already using their phone. 'Skip' will not page them, 'Force' will force-page them.
Duplex: check this box to open a two-way channel page so you can also hear the user talking back. If left unselected, only the paged user can hear the paging user, not the other way around.